My name is Vincent Dion, I am an emerging conservation professional from Canada with a background in chemistry and have been spending the last few months at the National Archives of Estonia. Wanting to spend time abroad and gain some hands-on experience in Europe, I contacted the Archives and an interesting residency was planned for me to work with their various holdings in different locations in Tallinn and Tartu. During that time I was able to work with various tracing papers and cloths, large maps, handwritten documents in iron-gall ink and even documents on parchment and glass negatives.
In addition to the conservation of paper objects, I have an interest in modern materials and duplicating processes, so I was quite interested when shown sets of plans and maps on plastic substrates needing attention in preparation for digitization and rehousing.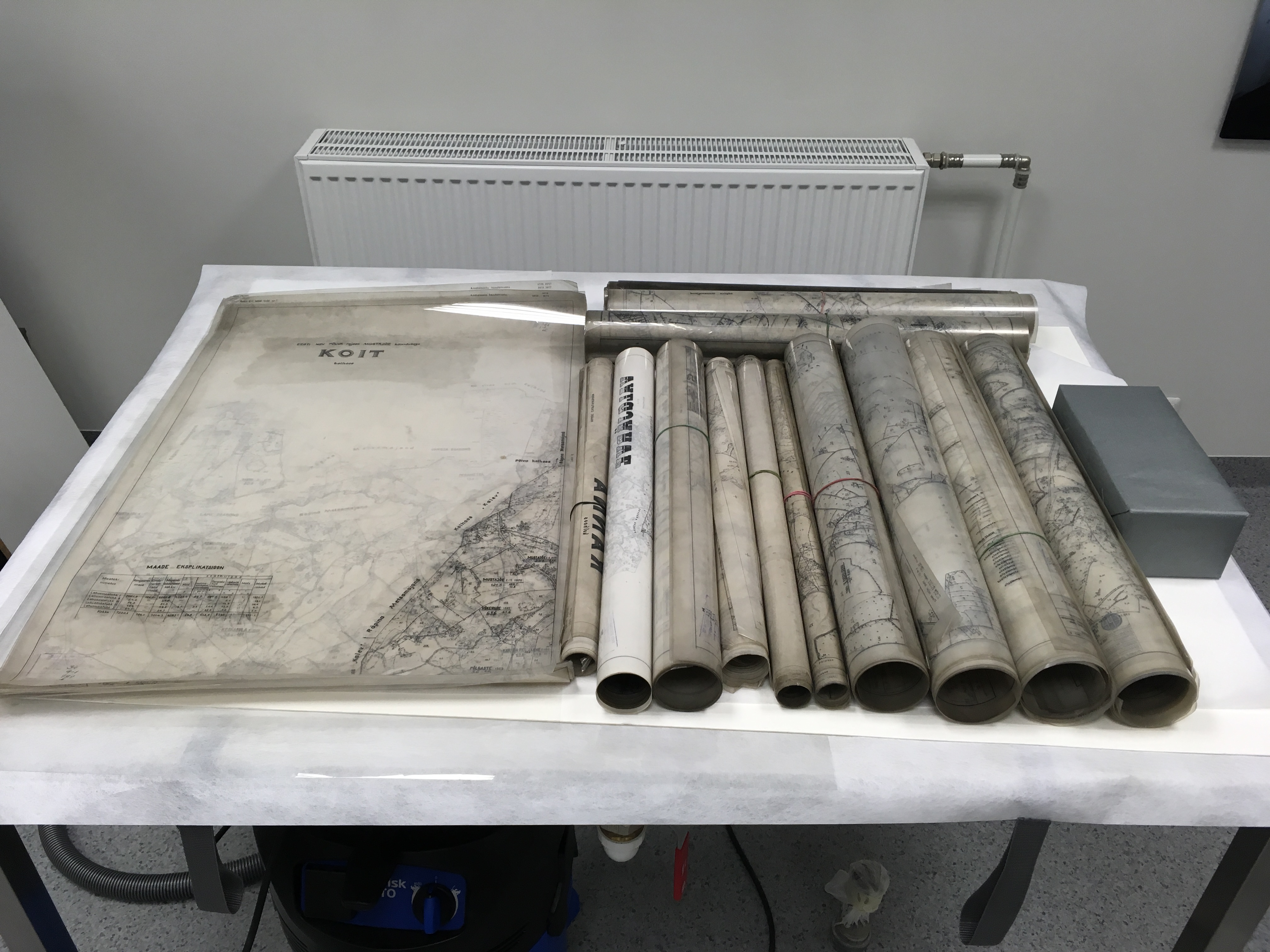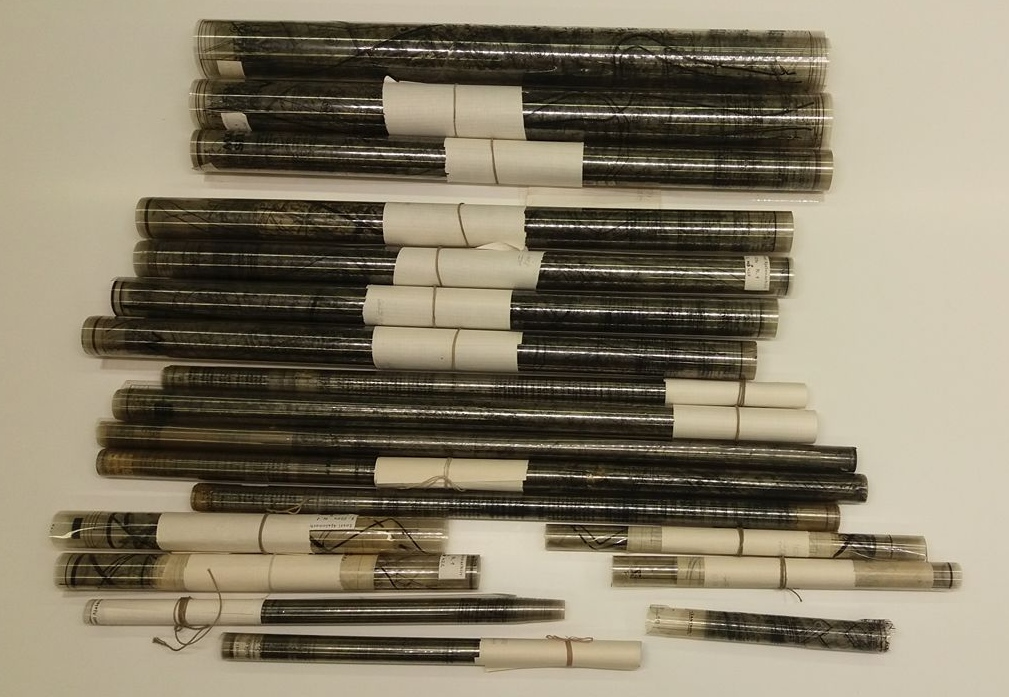 The plans in question were created at the end of the 60s and early 70s to map land usage and development in various regions of Estonia. They have been stored in rolled position for an extended period and show various condition issues depending on their format and the technology used to produce them. Size and thickness vary, some are completely transparent while some have a 'frosted' surface and different techniques seem to have been used to produce the image on their surface. After consulting with different specialists, I realized that such material is not so common and it has not been studied in depth which makes this project even more interesting.
While there is a good amount of literature on the topic of conservation of architectural drawings and reproductions, it mostly focuses on paper substrates and information on the use of plastic films (called drafting films) is limited. According to sources, they have been used starting from the 1950s as a replacement of tracing papers with cellulose acetate being the material of choice, followed by polyester in the 1960s. Depending on the surface's finishing method and coating, drafting films can either be drawn on with various media and/or receive a print using a photographic, electrostatic or chemical process (or a combination). The material allows for easy copying and modifications and the plans created can then be drafts, working intermediates or final copies, thus blurring the concept of an 'original' document. While this information helps us narrows down the possibilities of materials present and guide visual examination, chemical analysis was seen as necessary for a positive identification, as is often the case with industrially produced material.
With the help of researchers at Chemicum, I was able to analyze samples representative of the collection of transparent plans found at Noora using infrared spectroscopy to discover that, in all cases, the film base was cellulose acetate with a gelatin coating holding a photographic image.
This proved to be worrisome at first since cellulose acetate is a material considered much less stable than polyester, however most of the material seems in stable condition. The findings allowed the development of a preservation plan based on established methods for the preservation and conservation of photographic negatives made from similar film stock. In addition, knowing the base polymer of this set of plans was key to develop a successful method to unroll them in preparation for digitization and storage using controlled heat from a chamber in a process similar to annealing.
Studying the chemical resistance of the material then allowed to select an appropriate solvent to remove adhesive residues on the surface as needed.
Finally, a suitable method for repairing damaged films is currently being developed with one option being a stable archival splicing tape used on motion picture films.
These interventions guided by chemical analysis results now allow this material to be handled, digitized and subsequently stored safely where it can be monitored for further change in the future. The information found on the documents can now be made accessible via a digital surrogate while the physical objects can remain in storage for safekeeping and as examples of various technologies historically used to duplicate documents and create maps and plans of all sort. Further study of this material would greatly contribute to the existing literature regarding the preservation of archival architectural materials.
Preservation of plastic materials is a young field of study, the characteristics and complexities of the material challenge conventional conservation knowledge and its study often leave more questions than solutions. However with proper identification, some solutions can be developed based on the known properties of the material and practices borrowed from other fields of specialization.
Selected References
IPI Storage Guide for Cellulose Acetate Film (accessed February 25 2018)
Kissel, E. and E. Vigneau. 1999. Architectural Photoreproductions: A Manual for Identification and Care. New York: Oak Knoll Press.
Lowell, W. and T. R. Nelb. 2006. Architectural Records: Managing Design and Construction Records. Chicago: the Society of American Archivists
Page, S. 1996. Transparent Drafting Films: Profile for Preservation. The Book and Paper Annual 15.
Reed, J., Kissel, E. and E. Vigneau. 1995. Photo-Reproductive Processes Used for the Duplication of Architectural and Engineering Drawings: Creating Guidelines for Identification. The Book and Paper Annual 14.
University of Illinois. Preservation Self-Assessment Program (PSAP) | Architectural Drawing Reproduction (accessed January 10, 2018)